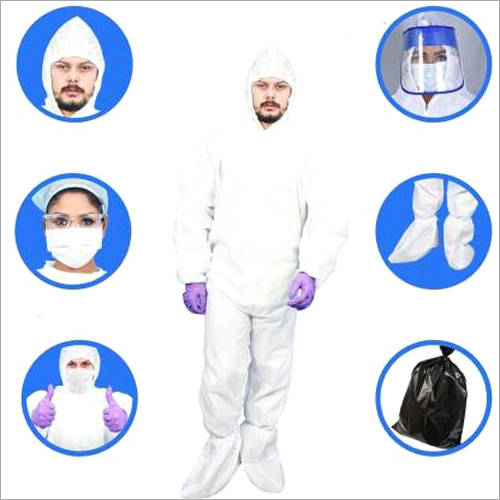 Making the most suitable choice for a 90 GSM PPE Kit Manufacturer is crucial, particularly in the current global environment where personal protective equipment is essential for protecting against health hazards like the COVID-19 pandemic.
It's crucial to take into account a variety of important variables before making this crucial choice to make sure you're dealing with 90 GSM PPE Kit Manufacturers that can satisfy your unique demands and keep the most stringent requirements of both safety and quality. Continue reading for a detailed discussion of these factors.
Quality Standards and Certifications
Your primary concern should be quality control while making decisions. Start by making sure the producer complies with the necessary certifications and quality requirements for PPE kits.
For instance, you can look for ISO 9001:2015 certification. It certifies the manufacturer's adherence to a thorough quality management system, which guarantees constant product quality.
Material Quality
The phrase "90 GSM" indicates the fabric's weight, expressed in grams per square metre, as used in the PPE kit. The long-lasting nature and safety features of the kit are directly impacted by the quality of the materials used, thus it is essential to evaluate this. Make sure the materials used by the manufacturer fit your unique needs for safety and comfort.
Capacity for Production
Analyze the manufacturer's capability for production in terms of both volume and speed. Can they satisfy your needs, particularly if you need a lot of PPE kits? Making sure the company has the flexibility to increase output when necessary is crucial, especially during emergencies or periods of high demand.
Lead Time
PPE supplies must be delivered on time, especially during emergencies. Ask about the manufacturer's order fulfillment lead time. You could find that a shorter lead time is desirable because it guarantees that you'll have your materials as soon as you need them.
Quality vs. Price
When it comes to PPE kits, quality and safety should always take precedence over price, even if cost is always a factor. When it comes to protective equipment, cheaper solutions may exclude crucial safety measures, which is wrong. It's crucial to strike the correct balance between price and quality.
Reputation and Customer Reviews
Examine the manufacturer's standing in the sector. If customer reviews are available, read them to determine their reliability and level of satisfaction. Positive customer reviews and a track record of keeping promises are both excellent signs of a reliable manufacturer.
Adherence to regulations
Verify that the 90 GSM PPE Kit Manufacturer complies with national laws governing the creation and distribution of PPE. To ensure the security and efficiency of the PPE kits, requirements must be followed.
Support for Clients and Post-Purchase Assistance
Analyze the manufacturer's customer service and post-purchase assistance. It's critical to have attentive and accommodating assistance so that your concerns may be immediately addressed in the event of problems or enquiries.
Cost Transparency
Strive towards price transparency. Make sure you comprehend every expense, including shipping, taxes, and import fees. Your budget and project schedule may be dramatically impacted by hidden expenditures.
In conclusion, choosing the most reliable manufacturer of 90 GSM PPE kits has a direct influence on the security and well-being of those who use these products. Prioritizing quality and safety and conducting extensive research are crucial. You may make a decision that is in line with your organization's objectives and dedication to safeguarding people in need by carefully weighing these factors.